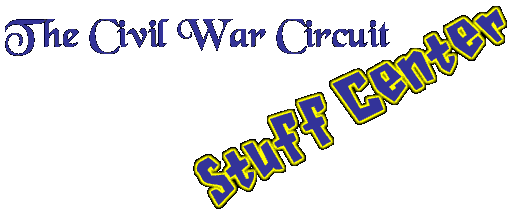 Welcome to the Civil War Circuit's Stuff Center! Feel free to browse around our small collection of free stuff. If there's anything that strikes your fancy, go ahead and take it home with you, compliments of the members of the Circuit. We'd just ask one thing: if it has a line of text giving the Circuit a little advertising, please leave that in place.







The first thing we have for you is a pair of Windows wallpapers. If you click on either one, you'll download a ZIPped copy of the full-sized (800x600) BMP file.
| | |
| --- | --- |
| Northern Version | Southern Version |
| | |
| (49K ZIP File) | (83K ZIP File) |







How about some free promotion for your Web site? Here's a free banner exchange service that I'd recommend you check out: LinkBuddies. The features it provides are pretty impressive.







Want some company while you balance your checkbook? Here's a Windows calculator for you, decorated with pictures of two fine "fighting generals."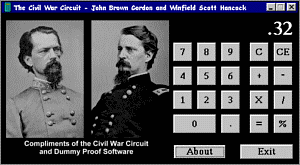 Click on the graphic to download the calculator package. It's a 225K ZIP file. UnZIP it and run the .exe file to install the calculator. The calculator needs VBRUN300.DLL to run, but you probably have that on your machine already. Thanks to Dummy Proof Software for creating this calculator for us.







This is a slick little gizmo you can put on one of your Web pages if you want. Just put the graphic in your directory and the line of code in your HTML. When someone clicks on the graphic, they'll be taken to a random site in the Civil War Circuit.

<P><CENTER><a href="http://www.webring.org/cgi-bin/webring?random&ring=cwcirc" target="_top">
<IMG SRC="cwcride.gif" WIDTH=231 HEIGHT=53 BORDER=0 ALT="CWC Random Site"></a></CENTER></P>
This is not a working model of this gadget. If you'd like to see it in action, check out Michelle's History and Historical Re-enactment Page or Links Related to the War Between the States.







Ever need a map to show people how to get to your reenactment group's next meeting, the local Civil War show, or the monument to General Lemuel Lump? You can get free Web-based maps from Vicinity's MapBlast. A click on this sample map of Petersburg will take you to the MapBlast site, where you can tinker around with this map or make one of your own -- which you can install on your own Web page.
Click on the map to browse or create a different map.







Ever wanted to put a Web search engine on your Web site? It's a very nice convenience for your visitors, but which one should you use? Here's one for you: Dogpile. Terrible name, but a great search tool! It's a multi-search engine, which means it submits your search to 14 different Web search engines at once. It will also search 5 Usenet search sites, 3 FTP search sites, and 3 newswire sources. Give it a try from here to see its linkback feature in operation. And click on Arfie to go to the Dogpile site and find out how to put the engine on your site.
| | |
| --- | --- |
| | Dogpile Search |







There are a lot of computer solitaire games around. One of the very best is Reko Productions' version of Klondike. There are literally hundreds of cards sets available for this game. Now there's another one. The Civil War Circuit card set features pictures of 52 of your favorite (and not-so-favorite) CW/WBTS general officers for the Windows version of Klondike.

To use these cards in your Klondike game, download the 287K ZIP file, unZIP it, and put the card set in your Klondike directory. If you don't have a copy of the game, you can get one at the Reko Productions Web site. It's very reasonably priced shareware.







"Under Construction" signs.... People either love 'em or hate 'em. Well, maybe even the people who hate the things might think this one's OK. You don't see a whole lot of pictures of Civil War bridge-building.








And finally.... If you're a sucker for free stuff, you're in heaven on the Web. There are dozens of pages pointing you to all sorts of frrebies. Here is our all-time favorite:

Stop back sometime. We hope to add a few more goodies as time goes on. And now, if you're done looking around here, you can head on back to the Circuit's home page.
Display text created using

Legal Mumbo-Jumbo: All material on this page is provided on an as-is basis, with no warranty expressed or implied. The Civil War Circuit and its members assume no liability for any consequences of installation or use of this material.